Noblesville Dumpster Rental
Renting a dumpster in Noblesville gets you the results you need fast and conveniently when you have a huge amount of trash to dispose of following an improvement project. Compared to the several back and forth trips to the landfill you'd otherwise have to make; getting a bin from a local Noblesville dumpster rental company can save you money and time so that you can complete your project in less time and get on with your week. Salty Dog Trash offers fast and low-cost dumpster rental Noblesville IN. Call (317) 660-5099 to rent a dumpster in Noblesville today.

We Take Just About Everything
Some examples of the junk we haul away include
Refrigerator Disposal

Garbage Removal

Mattress Disposal

Foreclosure Clean Outs
Construction Waste Removal

Yard Waste Removal

Trash Removal

Appliance Removal
Television Disposal & Recycling

Furniture Removal

E-Waste Disposal

Hot Tub Disposal
Rent a Roll-off Dumpster in Noblesville
Contractors, large construction companies as well as small businesses and regular homeowners can all rent dumpsters when they need to thanks to availability of different size dumpsters at affordable pricing in Noblesville. Salty Dog Trash takes pride in providing reliable dumpster rental services, flexible dumpster rental terms and low-cost prices to ensure that anyone who needs a container can easily rent a dumpster and have it delivered to their worksite or doorstep whenever they have a project. We serve Noblesville and neighboring areas.

Residential Dumpster Rentals - Renting a roll-off dumpster when you have a yard cleanup, a house cleanout, a remodeling or any other DIY projector is guaranteed to make your project less stressful. A dumpster not only allows you the freedom to begin and finish your project when you want; it also enables you to get rid of the trash or junk generated conveniently and without moving it more than once.

What roll-off dumpster sizes are you looking for in Noblesville? Salty Dog Trash has 15 yard dumpsters, 20 yard dumpsters, 30 yard dumpsters and 40 yard dumpsters available for rent at friendly costs. With our dumpsters, you can load almost anything you want to dispose of and have us come get it. We guarantee you that one of our containers will fit your trash. Just let us know what project you are thinking of.

Commercial & Construction Dumpster Rentals - Customers come to us not only for residential dumpster rentals, we also provide commercial dumpster rentals for commercial waste removal projects and construction dumpster rentals that are ideal for removal of roofing materials waste and general; construction and demolition debris. Whether you need a large dumpster or a small dumpster rental, we can deliver it to you today. Our large dumpsters can hold up to 6 tons of waste.
Noblesville Dumpster Rental Sizes
Choosing the right size dumpster can seem like an uphill task for anyone renting a dumpster in Noblesville for the first time. However, it is not too difficult with the help of our representatives who because of their experience and expertise do understand Noblesville dumpster rental sizes more than anyone else. They go out of their way to make sure that customers get the right size of bins depending on what they are looking to dispose of.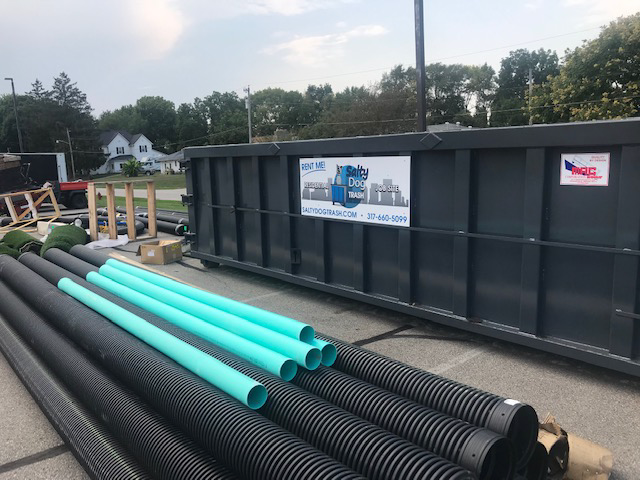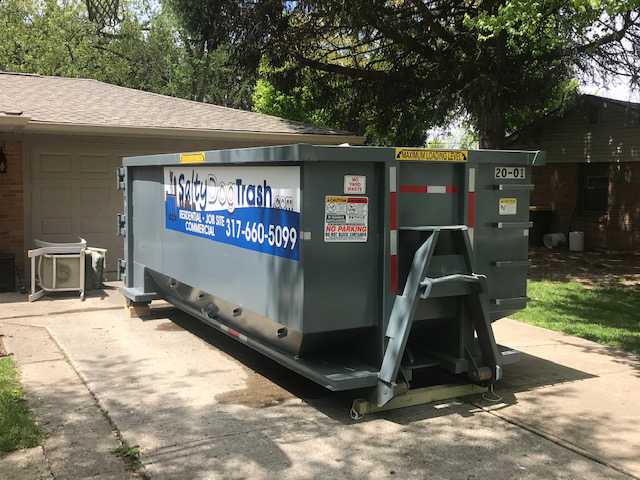 How To Rent A Dumpster in Noblesville?
Salty Dog Trash has both an online booking process and a "call-to-book' option. Anyone who wants to rent a dumpster in Noblesville can simply call us at (317) 660-5099 to book their dumpster or schedule a delivery or use our website to book one online. However, we recommend the 'call-to book' option for first-time renters who may need some help. The overall dumpster rental cost will depend on the dumpster size a customer picks, the rental period they opt for and whether or not they stick to the terms on their contract.

Local authorities in Noblesville require renters who intend to place their rental dumpsters next to public streets or other 'public-right-of-way' areas to first apply for a dumpster rental permit and obtain it from the local office before they schedule a delivery. This generally does not apply to renters with access to their own private placement areas. Talk to us here at Salty Dog Trash about your dumpster rental needs.

The Noblesville Dumpster Rental Company You Can Rely On
We specialize in delivering clean and affordable roll off rentals to your doorstep or worksite. Whether you are looking for commercial dumpsters, roofing dumpsters, residential dumpsters or construction dumpsters, Salty Dog Trash is the Noblesville dumpster rental company you can rely on for the best dumpster rental services. Our dumpsters can fit tons of trash and junk items. We are also the lead provider of dumpster rentals in Anderson IN, so if you are in that area just give us a call!