Fishers Dumpster Rental
Renting a dumpster in Fishers can make all the difference in your outcome when you have a home improvement project, a construction project or basically any project that generates a large amount of trash or debris. A project is only complete when all the resultant waste has been cleared of and it makes no sense to move trash more than once. A dumpster will allow you to get it all out at a go. Salty Dog Trash provides fast and convenient dumpster rentals in Fishers, IN. Call us at (317) 660-5099 to rent a dumpster in Fishers today.

We Take Just About Everything
Some examples of the junk we haul away include
Refrigerator Disposal

Garbage Removal

Mattress Disposal

Foreclosure Clean Outs
Construction Waste Removal

Yard Waste Removal

Trash Removal

Appliance Removal
Television Disposal & Recycling

Furniture Removal

E-Waste Disposal

Hot Tub Disposal
Rent a Roll-off Dumpster in Fishers
Salty Dog Trash provides people, businesses and communities in Fishers with reliable dumpster rental services. We also offer various size dumpsters and affordable dumpster rental costs to ensure that anyone who needs to rent a dumpster in Fishers for whatever reason can easily get a container that is suitable for their project. We are proud to serve homeowners, general contractors and construction companies as well as businesses locally and in nearby communities.

Residential Dumpster Rentals - Our roll-off dumpster rentals are commonly rented by homeowners who have DIY home improvement projects that often generate trash or junk that either cannot fit inside their regular bins or are not allowed in the city collection trash bins. Renting a roll off dumpster to clear out waste from a residential project will definitely make a project more organized and will result in a better outcome.

We have roll off dumpster sizes beginning from 15 yard dumpsters, 20 yard dumpsters, 30 yard dumpsters and 40 yard dumpsters. Our dumpsters are designed to load and comfortably haul almost all types of waste from both small to large scale projects. We provide a wide selection of dumpster options for our customers to choose from; ensuring that customers neither choose containers that are too large nor too small.

Commercial & Construction Dumpster Rentals - Contractors usually need commercial dumpster rentals for removal of waste and junk from various commercial projects. Roofers and other contractors also often require large dumpster rentals either for construction or roofing waste removal. At Salty Dog Trash, we have large dumpsters that can haul up to 6 tons of junk or garbage. Let us know the best rental dumpster size for your project and we will have it delivered to your site on-time and according to your schedule.
Fishers Dumpster Rental Sizes
If you are wondering how to choose the right size dumpster as a first time renter when renting a dumpster in Fishers; Salty Dog Trash has you covered. Our representatives have been handling dumpster rentals and trash for years and they are well-versed in Fishers dumpster rental sizes. Armed with their knowledge and experience; you can't go wrong when selecting a bin for your project.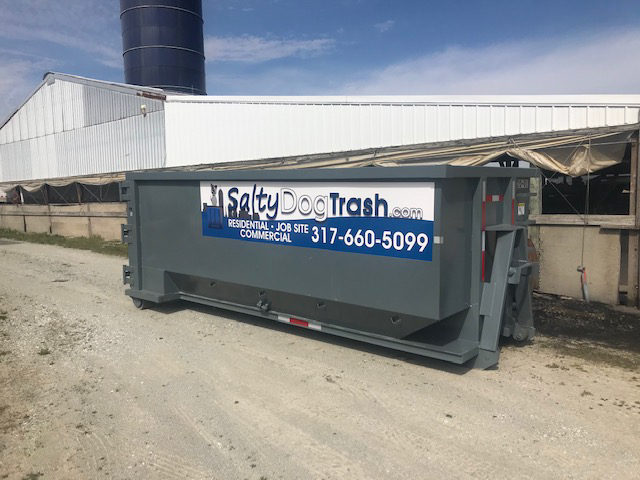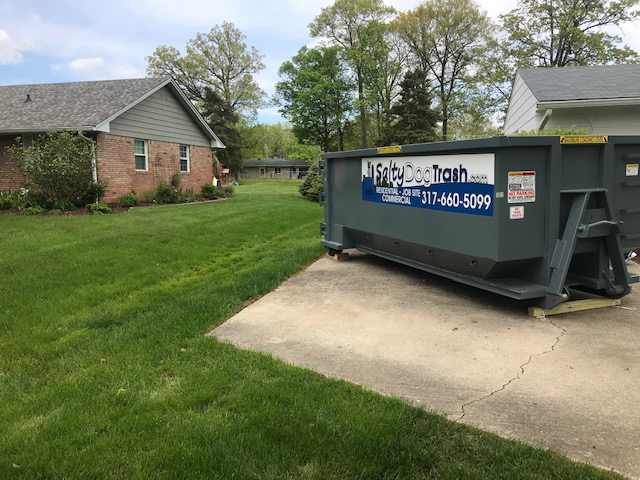 How To Rent A Dumpster in Fishers?
We provide two easy ways customers can use when they want to rent a dumpster in Fishers. The first and simplest way is to give us a call at (317) 660-5099, select a dumpster size, pay for it and schedule a convenient delivery day for you. This is obviously the most preferable way for a new renter who may need some help or clarification during the rental process. You can also quickly order your rental dumpster and schedule a delivery on our website using our simple online booking process.

Local authorities have existing rules and regulations relating to dumpster rentals in Fishers. Regulations require that one first applies for a dumpster permit and obtains it before renting a dumpster and scheduling a delivery if they will be placing the rental container in an area considered as a public-right-of-way and not a private placement area. Talk to us here at Salty Dog Trash about your dumpster rental needs.
The Fishers Dumpster Rental Company You Can Rely On
We specialize in delivering clean and affordable roll off rentals to your doorstep or worksite. Whether you are looking for commercial dumpsters, roofing dumpsters, residential dumpsters or construction dumpsters, Salty Dog Trash is the Fishers dumpster rental company you can rely on for the best dumpster rental services. Our dumpsters can fit tons of trash and junk items. We are also the lead provider of dumpster rentals in Muncie IN, so if you are in that area just give us a call!